Hello and welcome! For the benefit of all stakeholders, we will aim to share all key updates of Kaafila project on this page. Please visit this page regularly. Thanks!
---
Q2, 2022
27 June 2022
Kaafila Metaverse got its first metaverse land customer today. Start of a multi-year growth trend for #Kaafila #Metaverse -by students, freelancers, startups, small biz. It's a good sign for Kaafila Metaverse, which will grow bigger in coming 2-3 years with increasing adoption for both virtual learning and virtual working. Kaafila Metaverse will enable virtual learning through free courses with certificates, and virtual working with low cost virtual offices, industry events and industry parks. Please see this page to learn more: https://kaafila.org/kaafila-metaverse-overview/
Kaafila Metaverse got its first #metaverseland customer today. Start of a multi-year growth trend for #Kaafila #Metaverse -by students, freelancers, startups, small biz. Kaafila Metaverse will enable virtual learning & virtual working for Users worldwide. https://t.co/0fRef9Trp7

— Kaafila – Knowledge For Lifetime – $KFL (@Kaafila2020) June 27, 2022
https://linkedin.com/posts/avsbs_kaafila-metaverse-overview-activity-6947244658536144896-yY4R
15 June 2022
Kaafila Metaverse project has gone live with the first batch of metaverse lands from Zone B14 of District 1 listed on OpenSea. Kaafila Metaverse Land NFTs are available from 0.03 ETH to 5 ETH for different sizes and locations, and they can be used by all investors to participate in the growth of our metaverse project. Thanks.
https://opensea.io/collection/kaafila-metaverse
https://linkedin.com/feed/update/urn:li:activity:6940413002881888256/
10 June 2022
Kaafila Metaverse overview page published today. Kaafila Metaverse will be a virtual world, with Virtual Classrooms, Virtual Offices, Research Labs, Industry Parks for Renewable Energy, Software and Biotech, Industry Events, and Virtual Travel. Kaafila Metaverse will combine AI and Blockchain Technology to create high engagement and innovation. Kaafila Metaverse will have well-designed virtual offices for freelancers, startups and small companies, at a tiny fraction of the physical office rentals. Kaafila Expo will be like Dubai Expo, with industry events every month, at a fraction of today's costs. Kaafila Metaverse has total 10 districts that will be developed over 20 years. Only District 1 and District 2 will be developed till 2025. District 1 will get maximum development over next 3 years. More lands of other sizes will go live soon. Please see this page to learn more. Thanks.
https://kaafila.org/kaafila-metaverse-overview/
---
Q1, 2022
24 Mar 2022
Kaafila is now among the Highest Ranked Projects in the Algorand Blockchain Ecosystem (in top 3 from 100+ projects). https://ecosystem.algorand.com/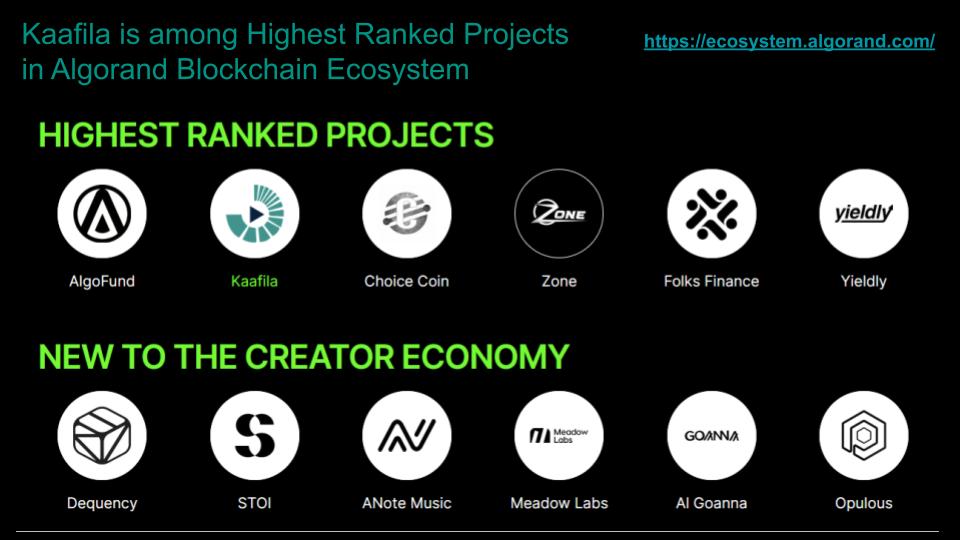 17 Mar 2022
Latest Kaafila pitchdeck has been published (version v10, URL remains same). https://kaafila.org/pitchdeck.pdf — and it includes the details of our "Universal Payment System" called "PayTokens" for the first time. This system is necessary to establish comprehensive participation in the blockchain economy, which is likely to grow 100X in the coming 10 years. Here's the PayTokens slide here for your reference. Thanks.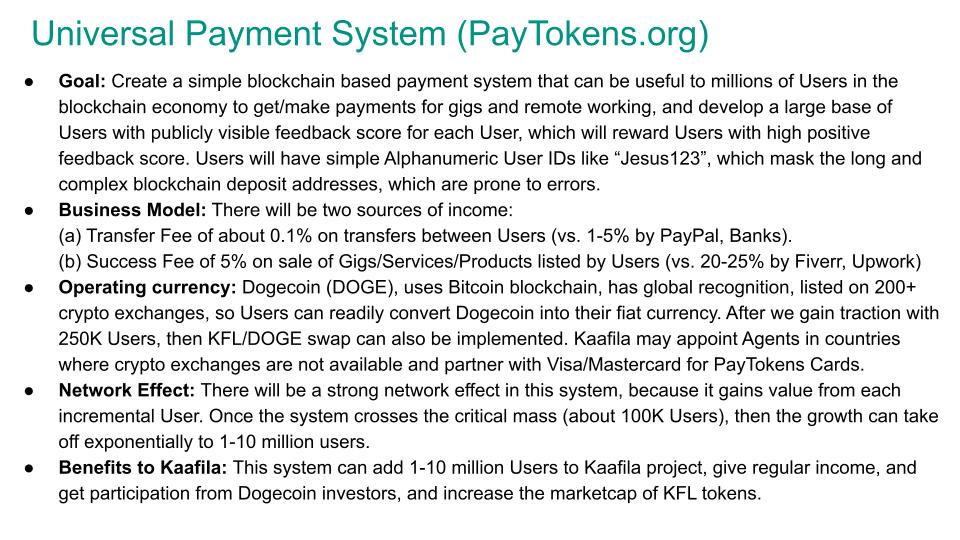 02 Mar 2022
Kaafila project (KFL token) has been listed on CoinGecko, the world leading independent cryptocurrency data aggregator. Kaafila project listed on CoinGecko!
11 Feb 2022
After a long wait, Algodex exchange has launched finally, and KFL token is also listed on it, with KFL/ALGO and KFL/USDT pairs, but the trading volume is very less, because the exchange is new and KFL token is also in early stages.
https://app.algodex.com/trade/239444645
Users will need to connect with Algodex using MyAlgo wallet, and can exchange KFL tokens for ALGO coins, which are very liquid on all leading exchanges like Coinbase, Binance, Gate, etc. Even though Algodex is based in Canada, its not able to take customers from US and Canada residents currently, and Algodex team is working on getting those clearances. Thanks.
06 Feb 2022
Kaafila project User base has been growing steadily, and we have crossed 21K Users today! Many Users are getting KFL tokens for their efforts to grow the project, and many others are waiting for the launch of Kaafila NFT Marketplace and Courses System, so that they can get into action, and we are working to make these systems live within H1, 2021. Thanks!
04 Feb 2022
Kaafila project has reached 20K Users through KFL token. This is a wonderful milestone, and we are grateful to all the people worldwide who believe in Kaafila. Thanks to all our Users, Team Members, and Well Wishers!
29 Jan 2022
Cryptos across the board have experienced sharp correction in last 15 days, and KFL token is no exception. However, the KFL token is finding some buying at lower levels.
The average price of KFL token in the Tinyman.org pool, is about 0.0004 USDT, and it was about 0.0005 USDT till two weeks ago, and there are only 3 million KFL tokens in this pool, which is a very small quantity, so if you want to buy even 1 million KFL tokens, they will come only at about 0.0005 USDT, which is more than double the current price. Kaafila team aims to make the Tinyman pool deeper (about 10K USDT) once we get some funds from KFL token sales during H1, 2022 so that the pool can be used by more people to buy/sell KFL tokens for under $500 per swap transaction. Even on Vindax.com (where we did IEO in Nov-Dec 2021), the KFL token price started at 0.0005 USDT, and moved up till 0.0007 USDT. Therefore, we are using 0.0005 USDT as the benchmark price for KFL token in the current quarter, and the same rate is being used for giving KFL tokens to our team members for their efforts. Thanks.
27 Jan 2022
On Thursday night, Shankar did a live streaming video discussion with Nick and Jan Dalmulder, who run a Bitcoin/Crypto channel in Europe with 25K followers. The video covers various updates on Kaafila project, and the development roadmap ahead. Here's the YouTube video link.
Following is the Twitter live streaming link.
Kaafila | Ep2 | @shankx On The Latest Exciting Updates & Developments! https://t.co/M0mqrIkr1I

— JD #Metaverse ? #Bitcoin & #NftLiberty (@JDalmulder) January 27, 2022
27 Jan 2022
New NFT series launched: "Kaafila Avian World Series" (KAWS) is a unique NFT project that will feature 1000 birds from across the world (with conservation status from least concern to endangered and extinct species), and there will be 1000 NFTs/cards for each bird, and there will be a monthly game with prizes for NFT collectors. The goal of this project is to increase awareness about birds and their ecosystems. Please see this page to learn more: https://kaafila.org/kaws/
"Kaafila Avian World Series" First ever Educational NFT Project featuring 1000 birds with varying conservation status, with 1000 NFTs/cards for each bird. Aimed to increase awareness of birds and ecosystems. Learn more: https://t.co/prWuUPHynf #ALGONFTs #algofam #Kaafila $KFL pic.twitter.com/sglJL9Z5At

— Kaafila – Knowledge For Lifetime – $KFL (@Kaafila2020) January 28, 2022
20 Jan 2022
Latest summary of Kaafila project development.
04 Jan 2022
KFL token hit $100 million marketcap intraday today, when the token price went up till 0.0012 USDT. We have seen such sharp spikes in other leading coins/tokens, and glad to see the buying demand in KFL token today. However, the average price of KFL token in the Tinyman.org pool is still around 0.0005 USDT, and once the liquidity in the pool increases (its one of our goals this year), it will help in creating more stable prices for KFL token buyers and sellers, and better for everyone. Thanks.
---
Q4, 2021
29 Dec 2021
Kaafila Decentralized Video Sharing App goes live. It will support independent content creators worldwide, and also bring valuable new courses on Kaafila platform on wide range of subjects/topics. Kaafila Video Sharing App rewards both Content Creators and Content Viewers with KFL tokens.
19 Dec 2021
KFL token price on Tinyman.org pool has been moving up. It could be because KFL tokens are on sale at a higher price of 0.0007 on Vindax.com (a small exchange where KFL token was listed few days ago). Kaafila project marketcap is currently at $30 million, but the liquidity is very less at under $5K per day, so aim to increase liquidity in the KFL/ALGO and KFL/USDT pools at Tinyman, once we get some new funds from KFL token sales.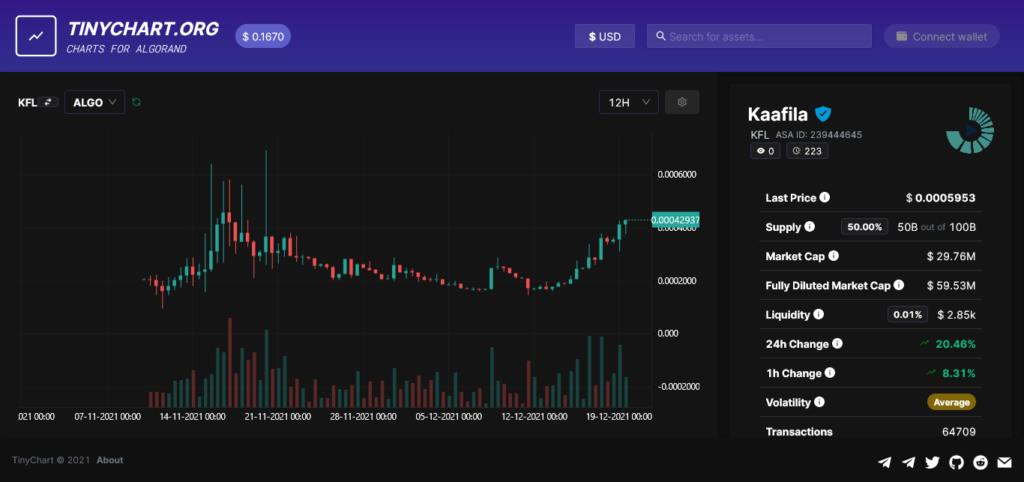 15 Dec 2021
KFL token has got listed today on Vindax.com at 0.0005 USDT after a delay of 15 days from the planned date, because of technical difficulties by Vindax team in integrating Algorand blockchain in their exchange system. They did not have Algorand blockchain software installed prior to KFL token listing. Now they can also list and trade ALGO, so in a way, Kaafila has paid for the listing of ALGO along with KFL listing on Vindax. This is a relatively small exchange, and the main benefit is that people worldwide can buy KFL tokens from here (except from USA and Canada). Here's the link.
https://vindax.com/exchange-base.html?symbol=KFL_USDT
02 Dec 2021
This video discussion, which covers the key aspects and goals of Kaafila project, and how KFL tokens can help Kaafila Users worldwide through free Courses, Certifications, Internships, and Scholarships, and how Kaafila aims to help Independent Content Creators through our Video Sharing App. The participants are: Shankar @shankx and Nick @JDalmulder (twitter ids)
07 Oct 2021
KFL token listed on Tinyman.org (new swap and pool site) where Users can swap their KFL tokens for ALGO or USDT. It will provide useful liquidity path for KFL tokens, and provide an option for KFL team members to swap some of their KFL tokens earned from project work, to support their living expenses, and others can buy KFL tokens that come up for sale here, because that's the only way to buy KFL tokens currently. KFL/ALGO pool will have more liquidity that KFL/USDT pool. Thanks.