Kaafila Metaverse is a virtual world with Virtual Classrooms, Virtual Offices, Research Labs, Industry Parks for Renewable Energy, Software & Biotech, Industry Events, and Virtual Travel, including space travel. Kaafila Metaverse will combine AI and Blockchain Technology to create high engagement and innovation.
Top three focus areas of Kaafila Metaverse are:
(1) virtual learning (virtual classrooms, research labs)
(2) virtual working (virtual offices, industry events/expos/industry parks)
(3) virtual travel (virtual space travel, time travel)
1. Virtual Learning
Free education is a major goal for Kaafila project, and we must help millions of Users to "learn for free and earn from anywhere". Kaafila Metaverse will have virtual classrooms for delivering free courses to Users/students worldwide. The income from Kaafila blockchain apps will fund this goal of free education and internships for top performers in the courses. Our initial set of free courses with certificates will be on topics of: Software programming, Entrepreneurship & Business management, English language competency. These are the top 3 areas for learning based on our Users surveys.
In the initial versions, we will have human teachers, and but the future versions will have humanoids as teachers. These humanoids would have been learning in the same classrooms as students for 6-24 months, before reaching a level of competence to teach students. That will be a major milestone because then Kaafila Metaverse can offer 24×7 live classes to student worldwide. So the virtual classrooms will have heavy usage of AI. Each classroom will have ads on the boards/walls for monetization, and company executives can give a sponsored talk for 5 minutes in each class.
2. Virtual Working
Kaafila Metaverse will have elegant virtual offices for freelancers, consultants, startups, and small companies, at a tiny fraction of physical office rentals. Kaafila Expo will be like Dubai Expo, with industry events every month.
Virtual Offices in Kaafila Metaverse (everyone can have this office!)

We believe the Users of our Virtual Offices like freelancers and startups, will use their Kaafila Metaverse office address everywhere to invite their audience/customers for live meetings (potentially displacing LinkedIn URLs and Zoom meetings of today), because the virtual office can showcase their work in a much better way, using a combination of images, videos, and 3D designs. Today's prohibitive costs of renting a good looking office will be removed by the virtual offices in Kaafila Metaverse, and all professionals worldwide can present themselves and their work in an elegant way, irrespective of their location and economic background. Just imagine, Fiverr alone has about 4 million freelancers working on their platform. Plus there are thousands of startups and small businesses worldwide that run from homes and garages and they are all suitable candidates for using the low cost virtual offices in the Kaafila Metaverse.
Software Development Center in Kaafila Metaverse
3. Virtual Travel
Virtual Travel (involving space travel and time travel) is also a key part of our vision for Kaafila Metaverse, but its the most complex to implement, because we have to develop significant new understanding about different outer space locations, and places of other times/eras, and then try to implement it using 3D designs. But we will try!
Islands near District 1 (for Virtual Travel, Offsite Camps, etc)
Space Shuttle (for Virtual Travel)
Mars Buggy (for Virtual Space Travel)
These apps require significant understanding of Computer Science, AI, Astrophysics and 3D design, not easy, but worth trying, because we can give space travel experience to millions of people, who can't afford space shuttles. Maybe, Kaafila team will be there on Mars to welcome the SpaceX crew 🙂

Kaafila Metaverse Maps
Kaafila Metaverse has 10 districts that will be developed over 20 years. Only District 1 and District 2 will be developed till 2025. District 2 metaverse lands will be available after 25% of District 1 metaverse lands are sold, AND after 50% of the planned development in District 1 is completed. The plan is to develop D1 nicely before going to D2, so that other developers and companies can come on board fully and start developing their projects inside D1 of Kaafila Metaverse, and then we can focus on developing D2 with its own focus areas.
Kaafila Metaverse – Aerial View
Kaafila Metaverse – District 1 (D1) — the large island at the center of the metaverse.
Within D1, the small island on the north west is reserved for Kaafila Space Travel projects, and any other strategic projects that benefit from its location. People can visit that island for tours, and experience virtual space travel.
Each district will have focus areas for innovation & growth.
We will use District 1 to showcase the various possibilities with the metaverse for virtual learning, virtual working, virtual travel, and then use the remaining nine districts to expand on specific themes. District 1 will get maximum development over the next 3 years, till 2025. A detailed roadmap/plan for all ten districts will be shared by end-July 2022.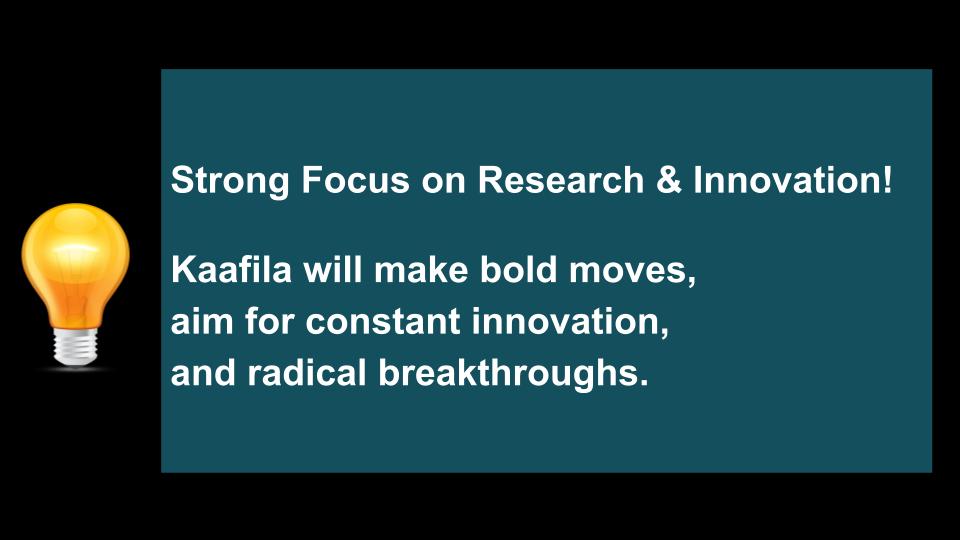 Kaafila Industry Parks
Kaafila Metaverse will have Industry Parks for Renewable Energy, Software, and Biotech — to showcase products/innovations from startups and companies worldwide.
1. Kaafila Renewable Energy Park
2. Kaafila Software Engineering Park
3. Kaafila Biotech Research Park
Following are some details of our plan regarding industry parks.
Kaafila Renewable Energy Park
Kaafila Renewable Energy Park will invite renewable energy companies, researchers, scientists and engineers worldwide to showcase their ideas, concepts, innovations, and solutions. Some of the innovative concepts/projects can also get grants in KFL tokens to advance their research.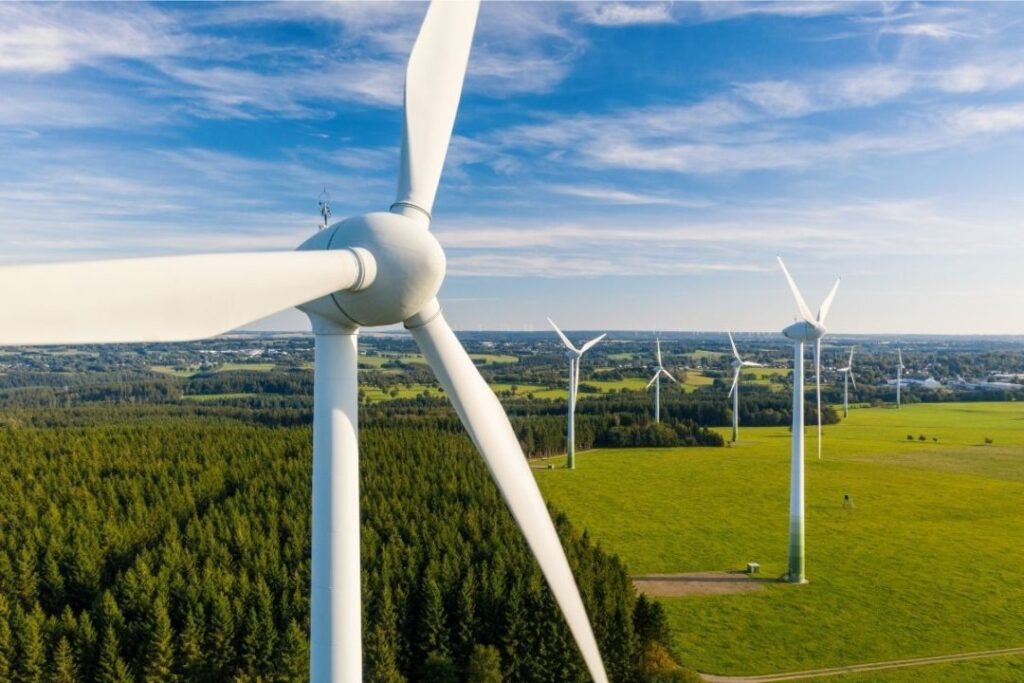 For example, District 7 has the largest area in Kaafila Metaverse, but we don't plan to sell any metaverse land in District 7 because we want to dedicate it completely to nature, conservation of natural ecosystems, water harvesting techniques (very critical in coming years), renewable energy parks, etc. All renewable energy companies can showcase their products/solutions/systems in this large spacious district that is dedicated to preserving the natural ecosystems of our planet Earth.
Floating Solar Panels
Floating Solar Panels are now being deployed worldwide (it was still a concept few years ago). We don't know where the next big innovation will come from. For example, we know that solar energy alone is enough to power all of Earth's daily needs, but how do we harness this huge amount of solar energy is an effective way to transport it the areas of high demand? Kaafila Renewable Energy Park will try to contribute in this direction by providing a dedicated space and some incentives for such efforts. We hope that people worldwide who believe in renewable energy will support and participate in the Kaafila project.
Many possibilities for innovation!
Imagine visiting a Tesla factory inside Kaafila Metaverse, to see the production of their latest EV model, speaking with one of their engineers, and then going for a test drive in the nearby hills (maybe a self driving car), and if you really like the experience and want to buy, then you can also place a buy order right there inside the Kaafila Metaverse!
Yes indeed, digital assets in the #metaverse can be productive assets just like physical assets. #Kaafila Metaverse will have virtual offices, industry expos, etc for sale/rent at low cost to help freelancers, startups & small companies worldwide. @AngelofYHVH @YahooFinance #KFL https://t.co/OamMcGNk5p

— Shankar AVSB (@shankx) May 14, 2022
Virtual Living
Virtual life is an integral part of the metaverse. The ability to create realistic meeting places for learning and work, and realistic family gatherings is a huge motivation for us. The benchmark is very high for achieving realistic setups, especially human faces, and it will take a few iterations to get virtual life that looks real. We will use the MetaHuman app by Unreal Engine to create realistic humans inside the metaverse. At some point, we will not be able to tell real from unreal – that's the vision for Kaafila Metaverse.
In District 1 of the Kaafila Metaverse, about 40% metaverse land has been allocated for plots of various sizes, and 60% has been allocated for public places, parks, forests, and projects related to natural ecosystems and conservation.
Metaverse Land Sale
Developers and Investors who are interested in buying land in the metaverse, can buy Kaafila Metaverse Land NFTs to participate in the growth of our metaverse project over the next 20 years. District 1 will be our main showcase district, and we believe it will grow like Dubai. Very few projects are working with such a long range plan, and the potential appreciation in Kaafila Metaverse lands is difficult to imagine today. Please see the full collection of metaverse lands for sale here: https://opensea.io/collection/kaafila-metaverse
There are plots of various sizes from 400 m2 (0.1 acre) to 20 acres, something for everyone!
For example, here's a large (XL) size plot in the Zone B14 in District 1 of Kaafila Metaverse, with an area of 3200 m2 or about 0.8 acres. With a forest of pine trees around and a lake nearby, this is plot is large enough to build your virtual guest house or farm house, or vacation cottage, or virtual office, or anything else you want to build in a calm place with a forest around.
Such large plots are ideal for investment as Metaverse Land NFT, because lot of development is planned in the nearby zones in District 1.
Another example. Here's a small plot in the Zone G18 in District 1 of Kaafila Metaverse, with an area of 400 m2 or about 0.1 acre. With a forest of pine trees around and with road for every plot, this plot can be used to build your virtual family home, or vacation cottage, or virtual office.
At below $50, this small plot (400 m2, or 0.1 acre) is a very affordable option to buy Metaverse Land NFT, because a lot of development is planned in the nearby zones in District 1.
Kaafila Metaverse land buyers will get access to develop projects on their respective lands once the Kaafila Metaverse is launched for public usage, which is planned by Q4,2023. Thanks.
References: