Monday, 11 July 2022
To increase participation in Kaafila blockchain project, and to arrange funds for project development, we are currently offering 100% bonus via Kaafila (KFL) tokens specifically to people in our alumni and professional network. Not for general public.

How will it work? You would buy KFL tokens and hold for 3 years, and you will get 100% more tokens as bonus after 3 years. For example, if you buy 1 million KFL tokens for $370 today (at rate 0.00037 USD), you will get 1 million tokens more as bonus after 3 years. Thus, you would have total 2 million tokens after 3 years.
We believe that KFL token price can move up 2-10X in 3 years (led by Kaafila Metaverse growth), and this bonus would double your gains. If you want, you can sell some bonus tokens at the exchange, and hold the remaining tokens for 50-100X gain during this decade, which is possible for Kaafila project, with the growth of Kaafila Metaverse and blockchain apps portfolio.
For this 100% bonus offer, minimum is 1 million tokens for $370 USD, and maximum 25 million tokens for $9250 USD. We will create your wallet securely and email the password grid, which you should keep safely. Thanks!
Best Wishes,
Shankar
P.S. Here's an example of KFL tokens wallet, which can be accessed only with your password grid (also known as private key). Every transaction of the wallet is visible online. Bonus tokens will be added in the same wallet. Thanks!  https://algoexplorer.io/address/PWTKJSRXQEREGUJK6ATJQUZW3OHIMO7WFGR5TCNCVASTQDWCVCLVZ2E2NY
---
The following information will give you better understanding about Kaafila project.
1. Top Ranked Project: Kaafila is among the Highest Ranked Projects in the Algorand Blockchain Ecosystem (in top 3 from 100+ projects). This achievement has been made possible with the hard work of Kaafila team members, and strong support of our Users. https://ecosystem.algorand.com/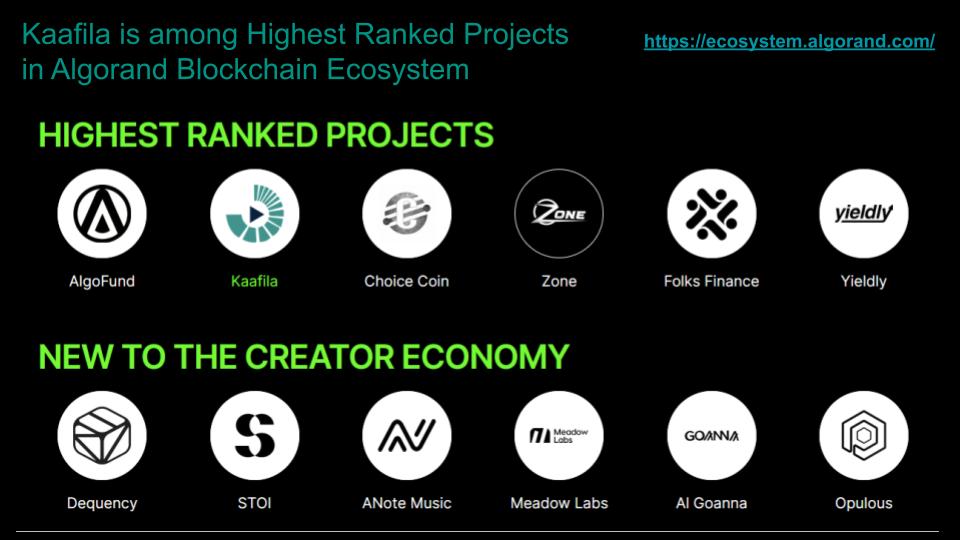 2. Kaafila Metaverse is our flagship project, dedicated to virtual learning and virtual working, with the goal to help 100 million Users to "learn for free, and earn from anywhere". Please see this page to learn more: https://kaafila.org/kaafila-metaverse-overview/
Kaafila Metaverse project started in June 2022, to enable virtual learning with free courses, and virtual working for millions of Users worldwide (students, freelancers, consultants, startups, and small biz). Metaverse development is in progress to create virtual classrooms and virtual offices. We've received positive feedback from a wide range of industry executives. Kaafila Metaverse land sales have just started on OpenSea, and metaverse land sales can generate $5-10 million income in the coming 5 years, as the project grows in usage and visibility. The customers for Kaafila Metaverse include freelancers, startups, and small businesses, and also larger companies like Banks, Financial Services, Brokerages, Insurance (BFSI), Retailers & ECommerce, Healthcare, Renewable Energy, and Software companies. Multiple income streams will be there in Kaafila Metaverse as described above. A part of the metaverse income will be used to buy back KFL tokens from the exchanges, which will reduce KFL token supply, and increase KFL token prices.
3. Kaafila project video: This video covers Kaafila project vision, goals, roadmap, team, traction, and other developments and trends related to the blockchain economy. Thanks.
Feedback from Stakeholders.
"None of us had Bitcoin in its first year, and now we have a chance to buy KFL token in its first year at very low rates. Huge upside with limited downside, let's share Kaafila with maximum people."
"I have complete confidence in the Kaafila project, in fact I have not seen many projects as bold and ambitious like it yet, except the Bitcoin project. Why I love it so much is because it's organic, it's alive! Many may not understand me when I say that…time will reveal it!"
"Kaafila is a good project and strong team with a predictable and transparent roadmap. I think in the near future we will see an unprecedented growth of this project." 
"Kaafila is one of the most unique projects in the Algorand blockchain and I'm happy to be a part of it."
"I have been following the Kaafila project since the launch, and I'm really impressed with the goals and development. I believe in the project so much!"

Disclaimer: Blockchain projects like Kaafila are subject to market risks. KFL token is not a security and there are no guarantees regarding token price appreciation. Forward looking statements are not guarantees of future performance. Thanks.